Hi, I'm MJ, the person behind Mad Jessie!
I am an artist, an art educator, a maker and business woman. I love the sea, and being outdoors in nature, and I live on a small sailboat in county Waterford with my dog. I started Mad Jessie in 2018 as I was recovering from back surgery, and I'm still going today!
The most important message behind Mad Jessie is that I want YOU to feel good about yourself. So take some time for yourself today, pop outside, take a deep breath, and remember how brilliant you are! And if you need a helping hand - you can sign up to my emails where I will send you FREE mood boosting reminders every month - Because it really is all about how you FEEL, and I want you to feel GREAT!
Sign up Here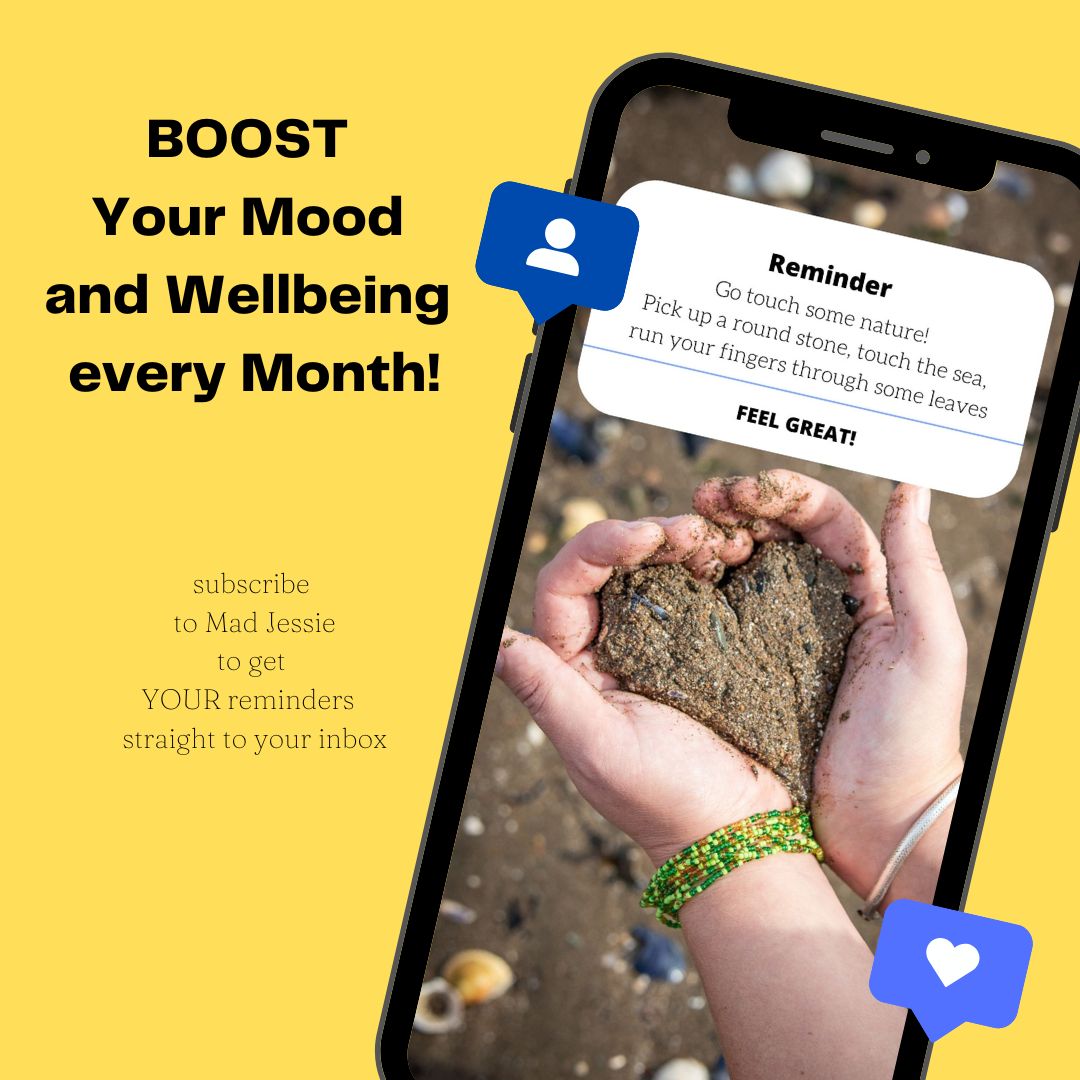 FREE Mood Boosting Reminders!
I have put together small steps, as an easy way to remind you to take a moment in your week, and reconnect with yourself and your surroundings.

On the 1st of every month, I will send you two of these wallpaper reminders, to use as you please throughout the month, and to hopefully help make your life that little bit better.

I would love to know if they do!
Sign Up Here
New Snuzzle Designs
Gorgeous hand-drawn designs on the cozy warm multi-use scarves!
They are THE perfect accessory of being outdoors, keeping the back of your neck protected from the chill, and as they are breathable and sweat wicking, they stay dry and warm all day long, keeping you warm in the cold, and cooling you down in the heat!
A Splash of Colour!
Irish designed multi use Sustainable Snuzzles for him and her. Perfect to put a bouce in your step as we jump into Winter! Keeping you outdoorsy people warm and bright!
Welcome to Mad Jessie
where all our products are drawn and designed by MJ, on her small boat, where she lives in County Waterford. From Sustainable Snuzzles (made from 100% recycled plastic) Skipper Hats (knitted in Waterford) and Plantable Pencils (that grow into herbs and flowers) we have something perfect for you!
Check out our Skipper Hats!
It's all about how you FEEL!
"I don't want to be an unattainable

un-relatable image.

When you look at Mad Jessie,

I want you to be able to see yourself.

I want you to think, "I can do that!"

I want you to love yourself

for who you are.

I want you to go and have some fun."

- MJ (who can't do a handstand) 2019
Origins - How it all began
What is important to Mad Jessie?
Sustainability

It is a massive word that covers a whole lot. Here at Mad Jessie I am taking it one step at a time, as I educate myself on sustainability, and then take steps to moving the business to becoming more and more sustainable. It's a big responsibility, but I think if we all take time to learn, and then to change our lives little by little, it will be more manageable, and we will be able to see our progress.

Mindfulness

Mindfulness is important. Drawing is a mindful practice, and creation is quite a mindful practice, so in that way, it's quite an important part of Mad Jessie. I also share this process of creation through short videos online. 

I really like creating these videos for others because it makes me take a step back and draw more, spending time being mindful and just creating.

Last year I introduced a colouring book and colouring-in pencils, so that others can spend time, being mindful for themselves and taking some time out from their lives, clearing their minds and colouring in. it's a great practice.

Boat Life

Living Aboard... Is the best!

It really is! - It's simple and cozy and fun and a bit of an adventure. It's also AFFORDABLE!

It's not all sunshine and roses - my biggest enemy is mould in humid winters, and when something breaks, I have to fix it pretty quick! The electrics have yet to go in, and the water tank (if only you knew what a luxury hot water from a tap is!!!) but every morning I get to see the sunrise. At night, I can see the moon from my bed through the window. And in the evenings I am rocked to sleep by the sound of the waves lapping up against the hull of the boat - In these moments, it is pure bliss.